Post by Deleted on Oct 23, 2010 3:49:41 GMT -5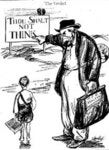 Rational. In the circumstance I gave, there is no suggestion of abuse of any kind.
Really? In the circumstance when I inquired about the bruise he replied that it was from falling down the stairs and then tried to pull his shorts to cover it. When I asked if he was embarrassed he said it was something that he couldn't talk about. It might have been but since he stated it was from falling down stairs (improbable) and then was embarrassed to talk about the cause of the bruise it seemed suspicious. Possibly, but it was observed that he had been interacting as usual up until that day and the other members had been reaching out to include him without success. That coupled with the fact that this normally gregarious boy now physically, as well as emotionally, withdrew from groups of people people also generated concern.
Really? Do you think it is genetic? Would that be a recessive gene that carries the 'dealing with children' trait? That is like saying men make better doctors.
Well, in this case it turns out that there was cause for concern. When the social worker came to talk with the boy he almost immediately began to explain that he had been molested while on a church sponsored camping trip the previous month. He was upset because he had just learned that the abuser was going to become the leader of his activity group and had applied force when the boy said he had to tell someone because it was so upsetting.
He did bruise easily due to a vitamin K deficiency. And the unexpected bruise showing up made the abuser very angry and this also caused a lot of the distress that was noted in the boy's behavior.
Oddly enough, these were among the excuses that the abuser had said the boy should use when questioned about the mark. The abuser did not know that due to the vitamin K deficiency a fall down stairs would have resulted in a multitude of bruises. These are the subtle things that one has to consider when evaluating a child's story regarding bruises.
Right. That was what the church advisor had said. It is all part of life and we should just wait and see how it played out. It was only after the investigation began that it was learned that the advisor has been approached by the abuser and told that the boy was spreading lies about the incident. The advisor said he that would keep that in mind and not believe everything he heard.
I am so glad I took the risk and decided to report directly to the authorities or I might have had my judgment swayed by the talk and warnings about the boy spreading lies from others.
Why? In this case they did not prevent he abuse nor protect the boy from the abuser after the fact.
Their trained staff are valuable radar operators and can scramble the appropriate services whenever a real threat is identified.
Waiting until a 'real threat' is identified is a disservice to the children. Not reporting a suspicion is a disservice.
I have a hunch that your experience of working directly with children at risk for any extended period of time is limited.
rational, I think you get the point that in most cases where there is concern for a child there is no cause for alarm about abuses of any kind. The great majority of circumstances have very innocent explanations and do not require alarmist approaches to the authorities.
This is all about appointing proper methods of prevention and protective measures in a church environment and the good common sense in appointing church child protection measures and officers.
I think your experience in the real world is somewhat limited.