Post by rational on Jan 30, 2016 3:22:27 GMT -5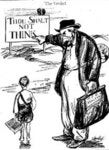 I am at peace being me (well as much as a human can be). I don't have any choice regarding my belief in a deity or deities.
Umfolozi said:The beauty of being a human is that we can reason and therefore have a choice. But I am glad that you say you are at peace.
I think you are wrong. Could anything make you believe in elves? Could anything make you disbelieve in god?
Umfolozi said: If evolution is not the product of a higher intelligence behind it,it would be = unimaginable luck.
I don't discredit evolution were there is concrete facts supporting it but their theories will remain theories until they find concrete facts for ALL of them.
There are a number of things that are unanswered for theists yet you don't discount that theory. If you want an answer regarding what you think are missing facts perhaps asking them would shed light. I have a feeling your sources have not presented you with an accurate view of things. It is like explaining that gravity works because things like each other and want to be close.
The beauty is : If we as Christians are wrong then we will never know it but if scientist,atheist and yourself are wrong then you will know about it after death. I would rather stand this side of the fence,thank you.
This is just a restatement of Pascal's Wager. It has a number of flaws. The major one is wouldn't a god know that someone was believing just to hedge their bet on an afterlife? And then the is the issue that with the thousands of gods what are the chances you have discovered the right one? The people of Egypt thought they had the right god for centuries. Doesn't look so good for them now. And in 10,000 years what god(s) will be in favor?
Umfolozi said:I have tried to see the beauty and diversity of the natural world through the eyes of an atheist today.And I must say I struggled to do so,I could not imagine that what I saw was done without an intelligent Designer behind it, to me believing this would be more of a miracle then having a Christian belief that God did it.A intellectual Designer would be a rational thought to me since I have never seen anything been created by pure luck without intelligence been part of it.
I tried to see the intelligent design in the children born with birth defects. On the news today there was a report of a couple who kept their children locked in the bathroom/basement for weeks at a time. Who designed the parents? A quarter of million people died following the earthquake in the Indian ocean - while I am certain the tsunami was a thing of beauty the aftermath probably took away from that. The point is that things happen. Good things and bad things. Had you witnessed a tornado killing people would you still have given credit to god? Or would that have been a force of nature.
Umfolozi said :So lets agree to disagree,cause we are sure not going to agree on this topic.And maybe when I am retired and me and you are still around we can debate it further ;) .
Sounds fair. When you are wandering around consider that some of the things you see cannot be considered intelligent design.