Post by What Hat on Jun 26, 2012 15:22:49 GMT -5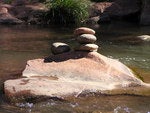 Boy that felt good! Now, back to the story . . . . . I am in the other corner (opposite DD and sacerdotal).
When I finished the book, I set it aside and said to myself what a perfect book for starting a TMB discussion group! I was able to answer the OP strongly in the affirmative. The description of Pi talking to the Japanese investigators is precisely the same as posting to a thread on TMB, the audience wants to hear what they already believe.
I am going against what appears to be a consensus. In a work of fiction, I have absolutely no problem with the floating island. As I have been known to say . . . . . yknot?
"Rafting" on floating masses of vegetation has long been a theory commanding serious scientific consideration as a possible explanation for the transport of land species between continents and islands. It is one of the major explanations for the transport of land animals from Africa to Madagascar. Interestingly, meerkats are members of the mongoose family that some argue may have reached Madagascar on floating masses of vegetation. Natural islands of floating vegetation are relatively common in lakes in the Northern part of Mexico.
No, I take the position that the "true" story was the story told through the first 94+ chapters. Life is a journey of experiences that each person takes alone. One can tell others of their journey, but no other person can ever experience life as you have experienced it.
Pi tried to share his experiences and the faith that sustained him. But the investigators (inquisitors?) needed instead to hear their own beliefs confirmed from his lips. He complied. And why not, he had told them what happened, they rejected him, with compassion he met their need and maintained his own convictions. What would any of us do differently?
That sounds awfully much like a post-modern interpretation to me. LOL.