Post by rational on Dec 25, 2015 2:00:46 GMT -5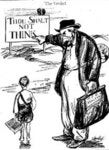 "Who am I?" - This requires no faith. I am the next generation of a species, the result of the combination of the DNA of my parents.
"Where did I come from?" - like every other member of the species, the result of the combination of the DNA of my parents.
"Where am I going?" - Like every known life form, I will cease to function at some point and my constituents will return to the environment.
"What shall I do while I am here?" - This is an individual question. I try live a life that does not harm others. There is a lot more but faith is not involved. Faith becomes an issue when people speculate on what
might
be rather than what is known.
All of your answers are predicated on the assumption that "you" are just your physical body – a bag of skin, containing some bones and some organs in community with a bunch of microorganisms that outnumber your cells by 10 to 1. Nothing more.
You have it just a little twisted. I have arrived at the above conclusions because there is absolutely nothing that would lead to a different conclusion. Life forms are produced and they die. Sure, people like to speculate over what
might
happen after death, whether there
might
some higher purpose for our existence, or if there
might
be something that humans are supposed to be doing while here. One could also speculate that humans
might
be oak trees that simply have a different perception of themselves.
Should some evidence come to light regarding the existence of an afterlife I would be very interested in exploring it. But to date there is nothing.
Even if you want to argue it based on "lack of evidence", embedded in this are two articles of faith:
1. that empirical evidence comprises some sort of overarching objective reality, rather than simply being a product of human perceptual experience.
You could speculate on what is and is not reality. But empirical evidence is what there is. You can come up with all sort of possibilities to discount it but if you were to drop a rock and measure the acceleration due to gravity it would be the same no matter who took the measurement. Certainly it is human perception but then we live in a world perceived by humans.
2. that rational thought is the only way of making sense of our existence here.
Rational thought allows for the development of ideas supported by the available data which in turn allows for the prediction of future events based on the the resulting theory. Or course individuals can evaluate the data in an irrational way but past experience has demonstrated that this does not yield reliable results.
radius, ulna, humerus...? A fracture - greenstick, oblique, compound, buckled, simple, transverse, comminuted, stress...? Inquiring minds want to know!