Post by Alan Vandermyden on Feb 5, 2011 17:50:57 GMT -5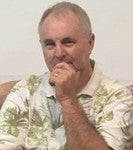 Do you mind sharing? If it isn't too painful for you.
Some of you may recall hearing of the accident, but I'll relate a bit of the story . . .
John Walker, Mike Murray and I had been together at the Buttonwillow (BW) convention grounds, for what we called "pre-preps" in those days. This was just a week or so in which the core BW prep crew did some basics in preparation for the much–larger crew that would arrive after the two conventions at Gilroy.
On the Saturday preceding Gilroy 1, we workers "scattered" in various directions and groupings, planning to arrive at Gilroy on Monday, I believe. I had been in the Las Vegas (LV) field with Clair Bone since December of 1986 until prep time, and since LV is nowhere close to being between BW and Gilroy, John and Mike invited me to ride along with them to spend the weekend in their field—Santa Maria and San Luis Obispo (SLO), a coastal region just "over the hill" from BW. They were both friends of mine, and I gladly accepted. John was only 31 years old, and had probably only had one or two years of responsibility, having started in the work in 1977. Mike and I were both 27—I had started in the work in 1980; Mike in 1981.
I knew a few people in their field, but had just left the planning of the weekend to them. Details on the weekend are not significant to this story, although they are somewhat so to me, as well as to the two workers' families and friends. I still have no memory of the accident itself—I only remember waking up in ICU some time the next day, and wondering why the male nurse kept telling me to lay down. I didn't have any pain, and I was intent on getting out of there and getting back with John and Mike.
My memory of that Sunday ends at about the time we got in the car. I remember Sunday morning meeting in Worth and Mildred Lundin's home, lunch at Ed and Connie Dalrymple's home, parts of the lunch conversation, and taking a nap (still fresh from the islands, I just found a spot on a bedroom floor). After we napped, I told
Da Tree Peegs
in Hawaiian Pidgin, and then my memory gets hazy—I believe I remember walking to the car, one of the Dalrymple boys walking over from the garage as the rest of the family walked from the front door with us, and then a discussion as to who (between Mike and me) would sit in the front. You know the discussion -- two people trying to be polite. Mike won out, and I sat in the front passenger seat.
I say "I think I remember" because there has been mention of this by the Dalrymple family members, and I'm not exactly sure what is actual memory, and what has been "filled in" for me. But a simple, friendly banter as to who would sit in front became very significant an hour or so later . . .
There is much I can tell about the accident and the ensuing hospitalization, recovery, legal proceedings, the effect on California workers and friends, and so on. I'm glad to relate them, focusing on what I learned from them. I'm not much for "drama," but our varied "experiences" can be used to learn and can be shared in that way too. Because the original question that prompted this posting was about the discussions regarding who lived and who died, and the ever–present questions like "Did God plan it or did God just allow it?" or "Would God plan a death? Is he sparing someone from something in life or perhaps 'using' their death(s)?" — I will focus on some discussions I was involved in concerning those topics. But first, I do want to briefly relate something that I regard as very significant, which I greatly appreciated:
My parents were living in Carson City (CC) at the time of the accident, and they drove a van down to pick me up at the hospital near SLO, took me to Gilroy 2 for a few meetings (where I caused quite a commotion, getting wheeled around in a wheelchair and all!), and then took me up to CC. I stayed with them until mid–December, by which time I could get around fairly well on crutches, and then joined up with Harold Hilton, "bumping" his companion, Mark McGee over to California somewhere.
The thing that came to mean so much to me through those four months was two men—Tim Ward and Bob Williston—taking time (individually) to come over and "talk story" with me, probably a couple of times a week or more. I had known Tim's family before, though not all that well. He is literally a "gentle man," and I was greatly impressed with his quiet interest in visiting—and I probably talked for hours about the Pacific! Bob and his family had only recently moved to CC (from Canada), as he had taken a position teaching French. Bob and I both love languages, and we had lots to talk about there. I haven't seen or spoken with Tim in years, and only re-established contact with Bob a couple of years ago.
There were also many other kindnesses, shown by many other people, of course. These were simply two who were able to do this and took time to do it, and I appreciated it.
Oops! — Just spent 30 or 40 minutes talking to a former instructor who's sitting here in
Coffee Talk
typing and using the internet too . . . gotta get my mind back on track now!
In the months after the accident, Russell Osborne, Mark McGee and I (and possibly others) had several discussions centering on "Does God plan, or just allow, things like this to happen?" Please realize that these conversations took place more than 23 years ago, and they don't necessarily reflect my views now—some have changed; others are still much the same. I'm not arguing any particular position, but just "throwing out there" what I can remember of some long–ago discussions. And I have no idea how either Russell or Mark feel about the topic now either. We human beings aren't static, so please don't "lock" any person into a particular position. We were just three young guys who thought we had something figured out, and we've likely all grown a bit!
As I remember it, Russell was quite certain that God only "allowed" such "tragedies," that He would never plan the death of one of His servants, referring to Eccl. 9:11: "Time and chance happeneth to them all."
The collision had occurred shortly after the three successive years in which California workers had left the work to marry (a brother worker and a sister worker each time), and the CA staff was quite "demoralized," with brothers and sisters becoming kind of "wary" of one another. The deaths did have a very pronounced effect of uniting the staff once again. This led to my feeling that God planned such things.
Of course, the inevitable question then arose: "Why did God spare you? Do you think you're better than them or something?" And my heart–felt response was that "God knows who needs more time to learn and grow." I sincerely meant this, though it was sometimes spoken in a semi–jesting manner. I saw John and Mike as more "spiritually mature" than I, and I highly respected both of them. John had a background of drug use, and had been the first in his family to profess. Mike's grandmother had professed, and he did as a young child (around 12 or 13 I think), also the first in his immediate family. Mike was also an adopted son, with three younger sisters later born into the family. His parents later told me how the story of choosing and adopting him just became part of the family history, told right along with those of his sisters' births. All of this added to my respect to the two men and their families, and I felt like God had used them in a particular way. I still hold similar views on this, but of course I'm in a very different position regarding workers and meetings too . . . confusing? Well, I don't claim to have all the answers, and you're quite free to disagree with me . . . I likely won't even bother to argue the point!